'Positively promoting the benefits of regular exercise on the body and mind, while understanding there is 'No Single Approach' to Health, Wellness and Nutrition, all at an affordable price'
ALAN WILSON, PERSONAL TRAINER
Although Dublin City, Ireland is where Alan Wilson spent his formative years, he is proud to call Oulart, in the County of Wexford his home and this is where he and his Wife chose to raise their children together. It was Alan's parents who, not unlike many parents, ignited his passion for Sports & Exercise and so his Fitness journey began.
His love, passion and drive to make a real impact in his Client's life choices forged the small beginnings of Lifestyle Fitness and Personal Training and the development of the holistic 3 stage 'The New You Protocol' (NYP), that encompasses Movement Patterns, Advanced Programming and Personalised Nutrition.
"NYP" begins with an informal consultation, Alan often describes this akin to dating or a job interview and it's vitally important that both Client and trainer have a professional chemistry, for this journey to succeed.
By tailoring "NYP" to personally target each of his Client's goals, incorporating movement patterns and strength evaluations and getting the energy balance right, Alan's work, produces more sustainable short/ long term results and is visibly noticeable with his Clientele.
Originally from Boston in the US, Kelly has been living locally for the last 4 years. With a background in hockey and softball, Kelly has many years experience in coaching sports teams. Kelly specialises in many areas of fitness including TRX and Kettlebells. Read More…..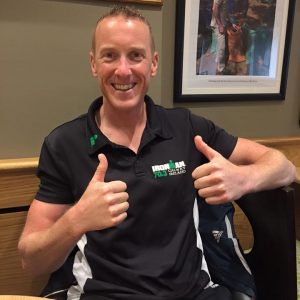 I have been physically active all my life. I have been training in gyms since I was 17. When I was 23 I took into endurance sports and competed nationally and internationally in triathlons ranging from sprint to IRONMAN distance Read More……
I have always been into sports since I was a child. I currently play American football with the local team in Wexford – the Wexford Eagles, and also with the international team – the Irish Wolfhounds
Read More…..
Originally from Piła, Poland, but moved to Ireland in 2007. I am a recent honours graduate from WIT who is now an Exercise and Health Professional. I enjoy helping people with their health and fitness journeys by empowering them to be the best they can be
Read More……